The Barn B&B Liverpool
Welcome to peaceful Hale Village and The Barn B&B. The best Bed and Breakfast for location, facilities and comfort. Ideal for both families and business travellers.
We are located minutes away from the John Lennon International Airport but in a quiet country setting that offers peace and security. Our Guest House was totally refurbished in 2005.
Family Friendly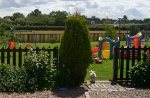 We are very child friendly - Our grounds and garden are completely secure with lots of garden toys to play with and plenty of animals to see.
We now have one Alpaca, two Jacobs sheep, two lurchers, one greyhound, and a few hens.
Liverpool Airport
Our Bed and Breakfast is conveniently located 2 miles from Liverpool John Lennon airport and we offer transfers from £6 to and from the airport. We have limited parking spaces available to guests, prices on request.
The Barn B&B comes highly recommended by Ryanair to their pilots for temporary accommodation for short-term stay.
Staying in The Barn B&B is perfect for travelling in or out of The John Lennon International Airport in Liverpool. Affordable lodging, genuine hospitality, healthy breakfast and immaculate housekeeping made it one of the best bed and breakfast stays that I have ever had in the United Kingdom.-Joe Merson, Travel Writer and Historian
Business Contractors

Our family suites are not only suitable for families but also ideal for long term business guests as they have full cooking and washing facilities.
We are near to Jaguar Land Rover at Halewood L24 9LE and have a long history of being popular with Jaguar and other employers such as Shop Direct, Novartis, Medi-Mune, Eli Lilley and HDNL who appreciate our experience and knowledge of the facilities business travellers are looking for in a Bed and Breakfast.
On premises secure parking and free wireless broadband are available.
Contact us now to discuss your business needs. Flexible pricing is available for long stay guests

Contact Us Now
All our rooms are modern and self contained which means that you will have your own WC/shower. See our ROOMS page for further details and Prices.
Most important - all prices include breakfast which is provided in the room and consists of cereal, yoghurt, fresh fruit, cereal bars, orange juice and tea or coffee. We also provide complimentary bottles of water and cookies.
Rooms
2 twin rooms
2 double rooms
2 family suites
Breakfast
Cereal, yoghurt, fresh fruit, cereal bars, orange juice and tea or coffee.
Provided in your room
Prices
Rooms from £60. Payment is by credit/debit card, cash or cheque. All major credit and debit cards are accepted.
Flexible pricing is available for long stay guests
Internet
Free wireless broadband
Parking
On premises secure parking