Location
Ramsbrook Lane
Hale Village
Liverpool
L24 5RP
Travel Information
We have easy access from our B&B to all the main motorways M56, M57 and M62 and are a couple of miles from Liverpool South Parkway and Hunts Cross train stations.
City centre and Liverpool Airport buses pass through Hale Village including the 82A which starts early morning and runs twice an hour throughout the day.
Postcode Warning
Be aware that if you use our postcode, many online maps and Sat Navs give our location incorrectly. For an accurate position you should use our Latitude and Longitude which are:
Lat: 53.339979825917794
Long: -2.80825674533844
Maps
Here are 2 maps showing our location. A traditional map and an interactive map from Google which has many controls that lets you zoom in and out and view road names or a satellite image view. The Google map is centred on us. Just click the + sign to zoom in.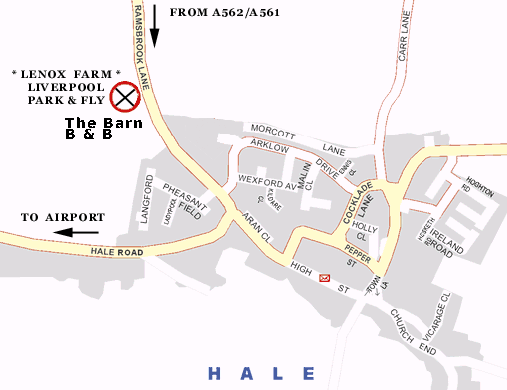 ---
Click and drag mouse to move around or use the on screen controls